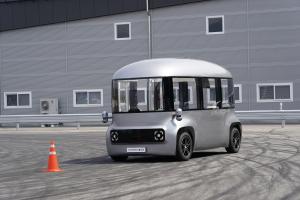 Autonomous a2z Presented its 'AI Era' Mobility Future Vision at the 2023 Daegu & Korea International Future Auto & Mobility Expo.
DAEGU, REPUBLIC OF KOREA (SOUTH), November 5, 2023 /EINPresswire.com/ — "A car you've boarded is a vehicle that will soon undergo autonomous driving trials overseas," said a company representative who rode in the box-shaped 12-passenger autonomous shuttle vehicle first presented by Autonomous a2z (CEO Han Ji-hyung) on the morning of the 20th at the '2023 Daegu & Korea International Future Auto & Mobility Expo (2023 DIFA Expo)' held at Daegu EXCO.
So far, while autonomous vehicles are under development occasionally, the opportunity to ride in an actual self-driving car that will drive on foreign roads is rare.
The autonomous shuttle presented by Autonomous a2z, a domestic autonomous driving company creating an independent mobility platform, is at a level that is beyond comparison with advanced driver assistance systems (ADAS) that allow 'partial autonomous driving.' It is a technology beyond level 3, where the driver must hold the steering wheel to a level where one does not have to pay attention to the front most of the time.
There are no drivers, steering wheels, or pedals. Everyone can sleep or enjoy the surrounding scenery. Extra monitors are for entertainment with various content during autonomous driving. With the equipment provided, riders can also enjoy games or watch movies. The vehicle has safety bars on the top and near the entrance for passengers to support themselves while driving.
Accelerating Humanity's Future Life in the AI Era
From October 19th (Thursday) to the 21st (Saturday), Autonomous a2z participated in the 2023 DIFA Expo held at the Daegu EXCO and presented their self-developed production-ready fully autonomous mobility 'Project MS' and 'Project SD' for the first time.
MS stands for 'Middle Shuttle,' a mobility platform for buses, while SD stands for 'Small delivery,' targeting autonomous delivery mobility. MS is a 12-passenger autonomous shuttle with level 4 fully independent driving solutions. SD targets middle- to last-mile delivery, featuring two vehicle types that can carry more than 300 kg.
The two vehicles presented by Autonomous a2z are designed with redundancy to prepare for sensor failures or malfunctions, and they feature a level 4 autonomous control unit and a double-brake-and-steering system for safe level 4 technology implementation. The design of this mobility platform guarantees safety by performing MRM strategies based on ISO23793 in the event of unexpected failures or emergencies.
Autonomous a2z stated, "In addition to introducing pilot vehicles by 2025, we plan to produce over 1,000 vehicles annually through OEM (Original Equipment Manufacturer) by 2030. Afterward, we will expand production through in-house production, contracted production, and collaboration with complete vehicle companies while considering system consistency, stability, quality, and market expansion."
Preparing for Listing in 2025 after Successful Series B Investment
Autonomous a2z recently completed a KRW 34 billion Series B investment. New investors such as Korea Development Bank, Hana Financial Investment/Hana Ventures, KB Securities, and XPLOR Investment participated in this round, along with existing investors like Kakao Mobility, KB Investment, and K & Investment Partners.
Autonomous a2z has selected Hana Financial Investment and KB Securities as joint lead managers for a domestic stock listing and is preparing for listing in 2025. The company will use the investment funds to mass-produce autonomous mobility platform vehicles and enter overseas markets. Autonomous a2z is making flexible efforts in overseas verification projects, so there are high expectations for its technology to become known globally shortly.
Autonomous a2z's CEO Han Ji-hyung said, "With KRW 34 billion in investment funds, we will produce prototype autonomous mobility vehicles and begin full-fledged pilot mass production after listing in 2025. We will utilize Autonomous a2z's autonomous mobility platform for global market entry in Singapore's ongoing verification project and discuss a European public autonomous driving shuttle service."
Since 2017, Daegu has hosted the Future Mobility Expo (DIFA Expo), now in its 7th edition. This year's event encompasses various aspects of the mobility industry, from eco-friendly cars (electric and hydrogen) to electric components, autonomous driving, and urban air mobility (UAM). The Ministry of Land, Infrastructure, and Transport and the Ministry of Trade, Industry, and Energy of the Republic of Korea co-hosted the event. They have focused on presenting the technological achievements made over the years and introducing the latest policy directions in preparation for the era of fully autonomous driving services and commercialization of UAM, expected between 2027 and 2030.
Davis Kim
AVING News
+82 2-856-3276
email us here
Visit us on social media:
LinkedIn
YouTube
Other
Originally published at https://www.einpresswire.com/article/666238638/difa-expo-2023-autonomous-a2z-envisions-korean-self-driving-cars-driving-in-the-usa-and-singapore-in-the-near-future