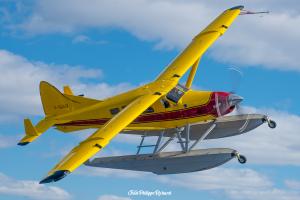 The revolutionary redesign of the iconic Beaver aircraft is poised to reinvigorate bush plane operations, offering unprecedented performance at a low cost.
Together with AVD and our multi-company team, we are immensely proud of this achievement. The AVD Turbo Beaver represents an ambitious aircraft program of scope seldom undertaken in Canada."
— Chris Baczynski, CEO and Principal Consultant, BAC Aerospace
OTTAWA, ONTARIO, CANADA, November 15, 2023 /EINPresswire.com/ — BAC Aerospace and its valued client Avionneire Val d'Or (AVD) are pleased to announce that Transport Canada Civil Aviation has issued a Supplemental Type Certificate (STC) for the aircraft modification.
The AVD Turbo-Beaver was derived from the venerable de Havilland DHC-2 Beaver bush plane. It combines a clean-sheet design engine installation based on the reliable PT6A-34 engine, a "BX" wet wing, an increase in payload weight, Wipline 6100 amphibious floats, glass-cockpit Engine Indicating and Crew Alerting System (EICAS), modifications to the empennage, and a host of other secondary changes and improvements. With 750 shaft horsepower and a usable fuel load of over 210 US gallons, the aircraft more than doubles the rate of climb of the original DHC-2 Mk I, while offering long-range capability with an endurance exceeding 8 hours at a faster cruising speed.
The extensive and comprehensive nature of the modifications required the design to comply with the latest airworthiness regulations and safety standards, much like a new "clean sheet" aircraft design. This ambitious certification program was carried out by a partnership of Transport Canada Design Approval companies, with BAC Aerospace providing systems engineering and design approval in the aspects related to aircraft propulsion and interdisciplinary program integration, and Deca Aviation Engineering, SDC consulting, and Avionics Design Services covering the remainder of the full spectrum of the technical disciplines involved.
With a significant and growing interest from the legacy Beaver owners and operators in the newly modified aircraft, mass production of the AVD Turbo Beaver will help to diversify the economy in the Val d'Or region while creating new jobs in an exciting field.
About BAC Aerospace
BAC Aerospace is Canada's first and only independent consulting and aircraft design approval company to offer national-level aircraft certification services in the field of aircraft propulsion. The company's mission is to provide expertise and services to new and emerging aircraft design firms and clients working on complex aircraft modification (STC) projects.
About Avionnerie Val d'Or
Avionnerie Val d'Or (AVD) is a company located at the Val-d'Or Regional Airport that specializes in the maintenance, modification, and repair of multiple aircraft types, whether they're on wheels, floats or skis, as well as aviation services for all types of aircraft, from the Cessna 150 to the Boeing 737. By introducing the Turbo-Beaver, AVD joins the ranks of Canadian general aviation manufacturers.
Chris Baczynski
BAC Aerospace
+1 613-909-8747
[email protected]
Visit us on social media:
LinkedIn
Originally published at https://www.einpresswire.com/article/668778796/avd-turbo-beaver-aircraft-receives-transport-canada-regulatory-approval