Advanced Compact Fly-By-Wire System Integration Marks a Milestone in Revolutionary eVTOL Development
DUBAI, United Arab Emirates, Nov. 15, 2023 (GLOBE NEWSWIRE) — A collaboration is unveiled as AIBOT, a pioneer in eVTOL technology, announces it has selected Honeywell (NASDAQ: HON) to integrate its Compact Fly-By-Wire system into AIBOT's aiEVTOL aircraft. This technological milestone combines groundbreaking eVTOL capabilities with robust, reliable, and advanced aerospace technologies.
AIBOT is a California-based company with the vision to disrupt the next generation of Urban Air Mobility for all. Pushing the current trend towards electric, AI, connectivity and sharing through innovation and strategic partnerships, AIBOT's mission is to create a software-driven, AI-empowered, electric, shared and connected aiEVTOL ecosystem and autonomous capable aircraft that centers around transforming the passenger experience. Under the terms of the agreement, AIBOT leverages Honeywell's rich heritage and profound expertise in aerospace technology, embedding the Compact Fly-By-Wire system (cFBW) into its innovative eVTOL aircraft. Honeywell's reputation for excellence and reliability dovetails with AIBOT's pioneering approach to eVTOL aviation.
"Our collaboration with Honeywell marks a pivotal milestone in realizing our vision of disrupting the next generation of mobility," stated Jerry Wang, Executive Chairman of AIBOT. "Honeywell's unmatched expertise augments our innovative approach, positioning AIBOT at the forefront of technological excellence in eVTOL aviation."
"We at AIBOT are taking the current EVTOL market as a baseline and pushing the boundaries, resulting in a game-changing line of products," stated John Clarkson, AIBOT Chief Engineer and former AIRBUS A380 Head of Engineering, Wing and Pylon. "All aspects of the designs, from structures to high-voltage powertrain systems, are advancing the latest techniques and technologies to achieve a significant leap in performance. This makes AIBOT's product lines aesthetically pleasing, world-beating, and placing us at the front of this exciting industry."
Honeywell's cFBW system acts as the technological linchpin in this collaboration, bringing many benefits including enhanced safety protocols, operational efficiency, and unprecedented flexibility in aircraft design, ensuring a seamless flight experience synonymous with reliability and excellence.
"This collaboration is another demonstration of how our core Flight Control technology can scale to meet the varying needs of our customers," said David Shilliday, vice president and general manager, Advanced Air Mobility, Honeywell Aerospace. "We look forward to working with AIBOT as they continue on their journey to positively disrupt the way we move."
AIBOT is a pioneer in aiEVTOL technology, dedicated to creating a connected, autonomous, and ultra-safe aircraft ecosystem. In 2022, AIBOT achieved full transition of their aircraft, positioning itself among the top 10 eVTOL contenders aiming for market deployment by decade's end. This advancement places them at the forefront of technical innovation with a planned suite of autonomous and manned aiEVTOL aircraft designed for both commercial and private use.
AIBOT's strategic production strategy is set to start in 2024 with the rollout of fully autonomous heavy unmanned aircraft, catering to industries like cargo, agriculture, high-speed inspection, and medical deliveries. These unmanned aircraft will benefit from the same system architecture as their manned aiEVTOL designs, ensuring synergy across their fleet. Looking to 2025, the maiden flight of their manned aiEVTOL aircraft will mark a new chapter in aviation.
The AIBOT-Honeywell collaboration signifies a new age of technological innovation and sustainable development in eVTOL aviation, combining advanced aerospace solutions with pioneering visions for the future of air mobility.
About AIBOT
AIBOT is a California-based company with the vision to disrupt the next generation of mobility, transforming the aviation industry to usher in the B2C era, making the freedom of flight an accessible reality anytime, anywhere in everyone's daily life. AIBOT's mission is to create an AI-defined, software-driven, ultra-high tech, hyper-performing, electric, internet-connected, and autonomous aiEVTOL aircraft and ecosystem. To learn more, visit www.aibot.ai.
About Honeywell 
Honeywell Aerospace products and services are found on virtually every commercial, defense, and space aircraft. The Aerospace business unit builds aircraft engines, cockpit and cabin electronics, wireless connectivity systems, mechanical components and more. Its hardware and software solutions create more fuel-efficient aircraft, more direct and on-time flights and safer skies and airports. For more information, visit www.honeywell.com or follow us at @Honeywell_Aero. 
Honeywell is an integrated operating company serving a broad range of industries and geographies around the world. Our business is aligned with three powerful megatrends – automation, the future of aviation and energy transition – underpinned by our Honeywell Accelerator operating system and Honeywell Connected Enterprise integrated software platform. As a trusted partner, we help organizations solve the world's toughest, most complex challenges, providing actionable solutions and innovations that help make the world smarter, safer and more sustainable. For more news and information on Honeywell, please visit www.honeywell.com/newsroom.
Contacts
Investors: [email protected]
Media: [email protected]
A photo accompanying this announcement is available at:
https://www.globenewswire.com/NewsRoom/AttachmentNg/f4ea37ea-8649-4470-be6b-602348eecfc8


AIBOT.jpg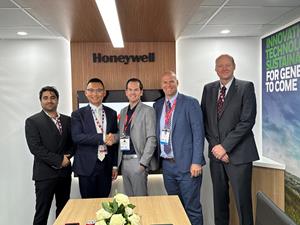 Left to right: Ramey Jamil, Head of Aircraft Systems, AIBOT, Jerry Wang, Executive Chairman, AIBOT, Taylor Alberstadt, Senior Director, Global Sales & Account Management, Advanced Air Mobility, Honeywell Aerospace, Ryan Lees, President, EMEAI Commercial Aerospace, Honeywell Aerospace, John Clarkson, Chief Engineer, AIBOT
Originally published at https://www.einpresswire.com/article/668672076/aibot-collaborates-with-honeywell-elevating-evtol-technology-to-new-horizons