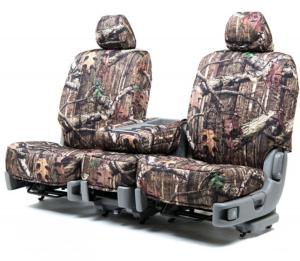 Seat Covers Unlimited Unveils the Ultimate Protection with Stylish Camo Patterns for Protecting Factory Seats
Our camo lineup is so fun. Customers, from burly hunters to super sporty people, love the camo line of seat covers. From pink camouflage to digital camo, we have fun and protective seat covers."
— Seat Covers Unlimited Spokesperson, Ben Bodrero
MESA, ARIZONA, UNITED STATES, November 15, 2023 /EINPresswire.com/ — Seat Covers Unlimited, a leader in high-quality custom vehicle seat covers, is excited to announce its latest range of camouflage seat covers designed to offer unparalleled protection and style for factory seats. These covers are not just about safeguarding the car's interior; they are a statement of personality and lifestyle.
With the growing popularity of outdoor adventures and a heightened appreciation for the rugged aesthetics of camo patterns, Seat Covers Unlimited is proud to offer an extensive selection that caters to every enthusiast's taste. From the dense forests to the urban jungle, seat covers will transform a vehicle's interior into a testament to one's passions. Company spokesperson Ben Bodrero had this to say about their camouflage line, "Our camo lineup is so fun. Customers from burly hunters to super sporty people, love the camo line of seat covers. From pink camouflage to digital camo, we have a fun and protective seat cover for lovers of nature's favorite pattern."
Preserve original factory seats with Camo camo seat covers. Camouflage seats are more than a fashion statement; they are a durable defense against the elements. Whether it's mud from the trails, spills from the kids, or wear and tear from daily use, these covers protect factory seats from the rigors of everyday life.
Tom, a satisfied customer of Seat Covers Unlimited, recently bought a seat cover for his Jeep. He had this to say, "a 2005 Jeep we recently purchased that was in mint condition. The seats are in perfect new condition, it only has 10 thousand miles on it, and would like to keep it like that."
Camo Patterns for Every Enthusiast Seat Covers Unlimited boasts a variety of camouflage patterns, ensuring there's a perfect match for every customer. Some of their popular patterns are Realtree, Sirphis, True Timber, Mossy Oak, A-TACTS, Zombieflage, Viper and Pink Camo.
Starting at competitive prices, Seat Covers Unlimited is committed to delivering quality, choice, and value to their customers. Each seat cover is crafted with precision and care, ensuring a perfect fit for a wide array of vehicle makes and models. Learn more about Seat Covers Unlimited and their custom seat covers https://apnews.com/press-release/ein-presswire-newsmatics/mesa-arizona-6125740d4ec80c680a78b3c2fec8cfd4.
About Seat Covers Unlimited Seat Covers Unlimited has been the premier source for quality vehicle seat covers since 1986.
Ben Bodrero
Seat Covers Unlimited
+1 480-832-5050
email us here
Visit us on social media:
Facebook
Twitter
Instagram
YouTube
Seat Covers Unlimited – Custom Quality Seat Covers


Originally published at https://www.einpresswire.com/article/667235415/seat-covers-unlimited-unveils-new-stylish-camo-patterns-for-protecting-factory-seats