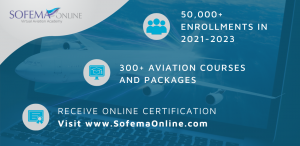 The leading provider of aviation regulatory training announced more than 50,000 enrollments on their online learning platform for 2021 – 2023
SOFIA, BULGARIA, November 9, 2023 /EINPresswire.com/ — A Wide Range of Options awaits the users of Sofema Online: With over 300 individual courses, packages, and diplomas the platform possesses a diverse portfolio that caters to various aviation professional needs and interests. Upon completion of each course, an online certificate is available.
SOL courses comply with Multiple Regulatory Environments: EASA and other regulatory standards, ensuring training that aligns with industry requirements.
Focusing on practical application, and equipping the users with the skills and knowledge needed to excel in their aviation careers, the curriculum builds vocational competence. Corporate and Individual Loyalty Programs are available. Get to know the Privileged Training Partner (PTP) webpage for preferential corporate treatment and the SOL Plus page for individual discounts.
Benefits :
> Full Online Training Access for 1 Year: Freedom Pass Program, elaborated for individual needs or a Corporate Freedom Pass for company needs!
> Competitive Pricing: Believing that quality education should be accessible to all, maintaining a competitive pricing policy, ensuring value for investment is Sofema Online`s priority
The EASA-compliant SOL Diplomas are encompassing:
– Continuing Airworthiness Maintenance Organisation (CAMO) Diploma

– Aircraft Maintenance Organisation (AMO) Diploma

– EASA Part 145 Safety Management System Learning Path Diploma

– Quality & Safety Competence in an EASA – CAMO & AMO Environment Learning Path Diploma

– Quality & Safety for EASA Compliant Operations Staff Learning Path Diploma

– Flight & Ground Operations Diploma

– Continuing Airworthiness Instructor Diploma

– Stores Logistics & Inspection Diploma

– Aviation Leadership and Management Skills Development Diploma

– General Aviation CAMO Learning Path Diploma

– Aircraft Technical Leasing Learning Path Diploma

– Safety Management Systems for Flight Operations Safety Managers

– EASA Initial Airworthiness Diploma
Steve Bentley
Sofema Online
[email protected]
Visit us on social media:
Facebook
LinkedIn
Instagram
YouTube


Originally published at https://www.einpresswire.com/article/667141750/sofema-online-records-more-than-50-000-subscriptions-in-aviation-regulatory-online-training-since-2021