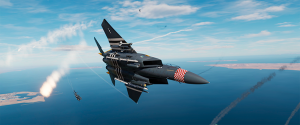 Former Army Ranger and Photojournalist Develops Tribute to U.S. Military Aviation with New Film Genre
BOZEMAN, MONTANA, UNITED STATES, November 9, 2023 /EINPresswire.com/ — Dino Garner, former Army Ranger, bestselling ghostwriter/author and military aviation photographer, has introduced a new genre of action film on Kickstarter – "TOPGUN: An Orchestral Aeroballet". Along with his producer, Liz Fetter, Garner has developed a stunning film of WWll, Korean War and current day era fighter jets performing jaw-dropping maneuvers and realistic dogfights. The Garner/Fetter team has harnessed the power of digital combat simulation (DCS) technology to create thirty minutes of two dozen fighter and attack jets in breathtaking aerial choreography throughout the film, all set against the backdrop of an awe-inspiring musical score.
"Dino Garner and Liz Fetter have created something beyond what we see in movies. Their film genre is unique and allows us to fully experience fighter aviation at its best, with different types of music that amp up the drama and excitement. Who needs dialogue and engine noise when you have classical music, rock 'n roll, heavy metal and blues blasting in the background?" said an early viewer of the film, a former US Air Force F-16 Viper pilot.
This film "TOPGUN: An Orchestral Aeroballet" is the first artistic work in the three-part "TOPGUN Trilogy", being developed by Garner and Fetter. The second work, being released early in 2024, is a large (650+) collectible printed volume that integrates Garner's award-winning aerial photography of military fighter jets with a comprehensive history of American military aviation, beginning in WWl. Included in the book are essays by luminaries from the fighter-aviation and aeromedical communities, accompanied by hundreds of stunning photographs capturing fighter jets in their exhilarating flights. Also in the book is a vibrant scrapbook with decorations, medals, insignia and unit patches from various squadrons, making it a truly comprehensive look inside the world of US military aviation.
The third work in the TOPGUN Trilogy, coming out later in 2024, is a feature-length film telling the story of an American teenage farm boy who journeys to France, driven by his indominable spirit to join America's maiden fighter squadron, the Escadrille Lafayette. Armed with the skills he honed on a farm in rural Pennsylvania, the boy confronts a 72-victory ace of the Imperial German Army Air Service, who has been undefeated in more than two years of aerial combat. The story is based on actual events of WWl, and has surprising twists and turns. This film will complete the TOPGUN Trilogy.
The upcoming book and feature length film will also be crowdfunded later this year.
To learn more, go to https:/www.kickstarter.com/projects/orchestralaeroballet/topgun
Questions to: [email protected]
Questions to: [email protected]
Liz Fetter
TOPGUN Trilogy
[email protected]
Originally published at https://www.einpresswire.com/article/667313082/topgun-trilogy-film-introduced-on-kickstarter