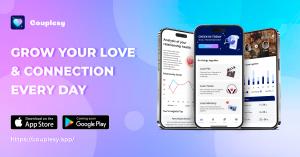 Minu Pte. Ltd announces the launch of Couplesy, an advanced mobile application that promises to enhance the dynamics of contemporary relationships.
SINGAPORE, November 4, 2023 /EINPresswire.com/ — Amid the digital advancements of the era, Couplesy emerges as an innovative platform for individuals in relationships seeking a stronger, more meaningful connection. This relationship app extends beyond conventional interaction, offering daily relationship check-ins, immersive activities, and AI-powered insights, all with the aim of fostering and sustaining love.
Couplesy – A Comprehensive Relationship App
Amongst the variety of relationship apps available, Couplesy provides a comprehensive set of features that promote a healthy, enjoyable, and lasting partnership:
Daily Relationship Check-in: A feature that encourages engaging conversations through personalized questions and provides valuable advice to enhance emotional connections.

Love Flix & Tunes: Synchronized movie streaming and shared music playlists turn simple interactions into extraordinary experiences, bridging distances with shared cultural enjoyment.

Love Games & Quizzes: Games and quizzes tailored for pairs add a layer of excitement and joy, helping to create shared memories.

Love Memory: A digital space for documenting significant moments within the app, allowing the sharing of photos, notes, milestones, and the creation of a joint love narrative.

Relationship Trackers: Activity reports to better understand partnership dynamics, providing insights into shared experiences and the relationship's growth trajectory.

Video Calls & Chats: The app's communication features ensure constant connectivity, bridging any distance with a simple tap.

Couplesy's Role in the Landscape of Couples Apps
Couplesy occupies a significant place in the landscape of couples apps:
Catering to Diverse Relationships: The app serves various couple dynamics, inclusive of all stages and orientations.

AI-Driven Relationship Insights: Leveraging artificial intelligence, Couplesy offers personalized suggestions for a deepened emotional connection.

Focus on Privacy: Security measures are prioritized to ensure the privacy of the user journey.

Feedback from Couplesy Users:
Feedback from users highlights the value brought to their relationships by Couplesy:
"The application has been instrumental in enhancing the depth of relationships, as evidenced by the daily check-ins and AI-driven insights," according to feedback from users Sarah and Mark.

"The commitment to data privacy within the application is noteworthy, providing a secure space for couples to connect and share memories," Rachel and David have observed.

"The application has facilitated a sense of closeness through its communication features, enriching relationships," users Ava and Ethan have reported.

Minu Pte. Ltd: Empowering Relationships Through Technology
Minu Pte. Ltd is committed to utilizing AI technology to strengthen relationships. With a portfolio of mobile applications aimed at improving the lives of users globally, Couplesy represents the latest innovation, now accessible on the App Store, contributing to the diversity of the couples app and relationship app sector.
Chien Dang
Minu Pte. Ltd.
support@couplesy
Visit us on social media:
LinkedIn
TikTok
Other
Originally published at https://www.einpresswire.com/article/665785621/couplesy-app-grow-love-connection-every-day-through-ai-driven-features