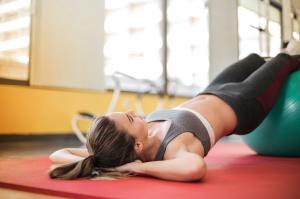 Explore these exciting fitness gift options to enhance the workout experiences of both fitness enthusiasts and beginners.
FREMONT, CALIFORNIA, UNITED STATES, October 30, 2023 /EINPresswire.com/ — As fitness continues to dominate mainstream social platforms, it's clear that people are increasingly prioritizing their health and well-being. With the gift-giving season approaching, choosing a fitness-related gift for the fitness enthusiasts in your life is undoubtedly a thoughtful choice.
Fitness Tracker
A fitness tracker makes an excellent gift for those who want to monitor their fitness journey. It provides comprehensive health statistics, including steps taken, heart rate, sleep tracking, and calorie consumption. With a variety of built-in exercise modes, it allows freedom of movement without the need to carry a phone. Brands like Fitbit, Garmin, Suunto, Amazfit, and Polar offer a wide range of options to cater to diverse fitness needs.
Massage Gun:
Massage guns have gained popularity among athletes and fitness enthusiasts alike. They serve as warm-up aids before exercise, helping to reduce the risk of injury. Additionally, they target specific areas to effectively relieve muscle pain and tension, including the discomfort associated with Delayed Onset Muscle Soreness (DOMS). For those engaged in high-intensity workouts, a powerful massage gun is essential for deep tissue massage. Meanwhile, portable massage guns are perfect for frequent travelers due to their compact size and ease of transport. Renowned brands like Therabody offer exceptional massage gun options, while new brands like PICOOC are introducing innovative features such as heated massage guns, combining massage and heat therapy for an enhanced experience and accelerated muscle relaxation.
Body Fat Scale:
A body fat scale not only offers weight measurements but also provides valuable insights into body mass index, body fat percentage, muscle mass, basal metabolic rate, and other vital data that directly correlate with physical well-being. A superior body scale should seamlessly connect with smartphones and effortlessly sync with popular fitness applications like Apple Health and Google Fit, enabling users to conveniently track their comprehensive health data. The PICOOC body composition goes one step further by displaying 25 basic health indicators and providing personalized exercise and dietary advice. This enables users to gain a better understanding of their overall health and effectively monitor their fitness progress.
Earphones:
Music is a powerful motivator during workouts, whether it's the energizing beats of rock or the soothing melodies of blues. Wireless earbuds are recommended for fitness enthusiasts as they provide a cable-free experience that won't interfere with exercise. For those who enjoy outdoor activities, bone conduction earphones are a great choice as they allow users to enjoy their music while remaining aware of their surroundings, prioritizing safety and well-being.
Fitness Bag:
A gym bag is an essential accessory for fitness enthusiasts, especially for those who frequent their favorite gym or yoga studio before or after work. A spacious fitness bag is necessary to store workout clothes, supplements, water bottles, towels, and exercise equipment. Opting for a fitness bag with compartments allows for efficient organization and separation of items. Brands like Adidas, Nike, Puma, and The North Face offer a wide selection of fashionable and practical fitness bags, making them ideal gifts for the upcoming holiday season.
Sportswear:
Professional sportswear combines comfort, functionality, breathability, and style. Form-fitting designs that don't restrict movement enhance motivation during workouts. Leggings, sports bras, workout tops, and shoes are essential items for fitness enthusiasts, making them great gift choices. For those who prefer personalized style, a sportswear gift card is a thoughtful option. Renowned sports brands such as Adidas, Nike, Lululemon, and Under Armour offer a diverse range of options to meet various athletic clothing needs.
When choosing a fitness gift, it's essential to take into consideration the recipient's interests and fitness preferences. By selecting gifts that align with their specific needs, you can provide them with valuable tools to stay motivated, engaged, and committed to their health and fitness goals.
Ellen Walker
TechTrendSpot Technologies
email us here
Originally published at https://www.einpresswire.com/article/664569062/discover-exciting-fitness-gifts-for-anyone-who-loves-workout