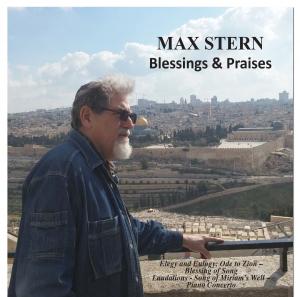 Recording Piano Concerto in Beersheba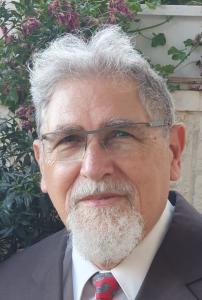 The composer in his garden at home
Five compositions inspired by classic biblical Jewish texts performed by members of the Jerusalem Symphony Orchestra, Israel Sinfonietta and soloists.
Max Stern is a brilliant composer, whose works combine…fresh approach and great tradition…a unique voice in today's musical global scenery…a unique experience for the orchestra, audiences and myself."
— Doron Solomon, music director Israel Sinfonietta
JERUSALEM, YERUSHALAYIM, ישראל, October 9, 2023 /EINPresswire.com/ — About the Composer
American-born Israeli composer Max Stern, following the call of Abraham, "Unto thy seed will I give this land" (Gn. 12:7), departed for the Promised Land (1976). On Mt. Zion he encountered a spark of the Divine light, was encouraged by the Yemenite community of Jerusalem, and befriended by Moroccan neighbors in Yeroham and Beersheba whose folklore he embraced as his own.
A pioneer figure in Israel's musical life, Max Stern has created a rich genre of biblical compositions blending East and West with contemporary idioms. He won the Israel Composers' League Lieberson Prize (1990), an award at the Japanese Society for Contemporary Music (1991), and special mention from International Epicmusic Composition Prize (Italy, 2004). He is professor emeritus of music at Ariel University, former music critic for The Jerusalem Post, released 19 CDs, and published books on: Bible & Music, The Speech of the Angels (KTAV), The Art of the Music Critic (Nova Publishers), and an Autobiography "Of Those Iv'e Loved" (KTAV). His works are performed at International festivals, released on Naxos Music Library, and praised for 'eloquence and warmth…expressive, authentic and original, touching the past, breaking into the future.'

___________

Blessings & Praises CD Program notes
Elegy & Eulogy: Ode to Zion for violin, winds and strings is based on a kinot (poem) by 12th C. Spanish poet and philosopher, Judah Halevy (1075-1141). Its structure integrates prayer intonations from Djerba and Morocco with bird calls awaiting the dawn.

צִיּוֹן, הֲלֹא תִשְׁאֲלִי לִשְׁלוֹם אֲסִירַיִךְ דּוֹרְשֵׁי שְׁלוֹמֵךְ וְהֵם יֶתֶר עֲדָרָיִךְ ?

לִבְכּוֹת עֱנוּתֵךְ אֲנִי תַנִּים, וְעֵת אֶחֱלֹם שִׁיבַת שְׁבוּתֵך – אֲנִי כִנּוֹר לְשִׁירָיִךְ.

O' Zion will you not ask how your exiles are?… The air of your land is the life of the soul…I would delight to walk among its ruins…When I weep for your affliction I am a jackal; but when I dream of return, I am a lute for your songs.

The second movement celebrates the breaking forth of the light in joyous ecstasy.

אַשְׁרֵי מְחַכֶּה וְיַגִּיעַ וְיִרְאֶה עֲלוֹת אוֹרֵךְ וְיִבָּקְעוּ עָלָיו שְׁחָרָיִךְ.

Happy is he who waits to see your light rising, your dawn breaking forth!

Performed by: Yam Cohen Roth, violin – members of the Jerusalem Symphony Orchestra / Max Stern

Recorded at the Jerusalem Music Center by Zvika Hirshler (26.6.23)
Blessing of Song (Nismat Kol Chai) is an ancient liturgical adoration of thanksgiving and gratitude for the gift of life. Said to date from Temple times, it is referred to in the Mishna (Pes. 10:7) and Talmud (Pes. 117b-118a) as Birchat Hashir or Benediction of Song.

נִשְׁמַת כָּל חַי תְּבָרֵךְ אֶת שִׁמְךָ ה' אֱלֹוהֵינוּ

וְרוּחַ כָּל בָּשָׂר תְּפָאֵר וּתְרוֹמֵם זִכְרְךָ מַלְכֵּנוּ תָּמִיד

The breath of all that lives shall bless your name, O Lord, our Creator.

And the spirit of all flesh shall extol and exalt you forever, O our king.

Performed by Amalia Ishak, mezzo-soprano – Mauricio Paez, bassoon – Eyal Bat, piano

Recorded at Eyal Zaliouk Studio, Herzliya (31.5.21)
Laudations for flute, viola & piano, inspired from vocal music, integrates Western forms with ethnic chants, songs, meditations, and prayers from Jewish communities of North Africa, Italy, Jerusalem, and Eastern Europe. Its lean melodicism and spare heterophonic sonorities evoke moods and qualities of Praise, Parable, Joy, Supplication, and Thanksgiving.

1. Prelude 2. Meditation 3. Dance 4. Prayer 5. Processional

Performed by Trio Emanuel: Vadimir Silva, flute – Alexander Shohat, viola – Mina Dashevsky, piano

Recorded live at the Jerusalem Music Center by Sarah Shulman (2.2.22)
Song of Miriam's Well for voices recreates the sparkling joy of the sieve-like rock out of which water gushed forth for the Children of Israel on their 40-year journey in the desert. The Well itself sang while the people responded in a cooperative spirit of goodwill and beneficence.

אָז יָשִׁיר יִשְׂרָאֵל, אֶת-הַשִּׁירָה הַזֹּאת: עֲלִי בְאֵר, עֱנוּ-לָהּ

בְּאֵר חֲפָרוּהָ שָׂרִים כָּרוּהָ נְדִיבֵי הָעָם, בִּמְחֹקֵק, בְּמִשְׁעֲנֹתָם

Then sang Israel this song: Spring up, O Well—respond to it.

The Well, the princes dug. Hollowed out by the beneficent

According to the directions of the Lawgiver – with their staves (Num. 21:17).

Performed by Max Stern, voices & contrabass / Recorded and synthesized by Shalom Kinory, Jerusalem (2021)
Piano Concerto (Dominus Illuminatio Mea) for piano and orchestra traces the character and structure of Psalm 27. Themes reflect ethical issues: light vs. darkness, integrity vs. hypocrisy, faith vs. cynicism. A trusting reliance on Divine Grace proves triumphant over external antagonism and hostility as well as the inner demons of doubt and despair. The dialogue between soloist and orchestra mirrors the Psalm's message of hope against confrontation, and ultimate triumph.

לְדָוִד: יְה, אוֹרִי וְיִשְׁעִי–מִמִּי אִירָא

אַחַת, שָׁאַלְתִּי מֵאֵת-יְה– אוֹתָהּ אֲבַקֵּשׁ

שְׁמַע-יְה קוֹלִי אֶקְרָא; וְחָנֵּנִי וַעֲנֵנִי

I. The Lord is my light and my salvation, whom shall I fear (Ps. 27:1-3).

II. One thing I have asked of the Lord, this only do I seek (Ps. 27:4-6).

III. Hear O Lord when I call and be merciful and answer me (Ps. 27:7-14).

Performed by Timor Shapira, piano – Israel Sinfonietta Beersheba / Doron Solomon

Recorded at The Center for the Performing Arts, Beersheba by Uzi Katz (22.10.18)
Credits

Mastering: Avi Yaffe Recording Studio

Booklet design: Yossi Shilon, Beersheba

Disc Reproduction & Printing: CDI, Ltd. Karmiel

Scores: Israel Music Institute (IMI) http//www.imi.org.il
© Copyright 2023 Max Stern, All Rights Reserved

7a/13 Narkis St., Jerusalem 9246107 < [email protected] >

ACUM, 9 Tuval St, Ramat Gan 52117 < [email protected] >
MAX STERN
MS Classical
+972546603192 ext.
[email protected]
Zoom interview about the music of Max Stern (International Forum for Jewish Music Studies)
Originally published at https://www.einpresswire.com/article/660406574/max-stern-blessings-and-praises-a-new-cd-release-of-recent-biblical-compositions