Metropolis 5000, value: 10000 Dollars, 60×50 cm, oil painting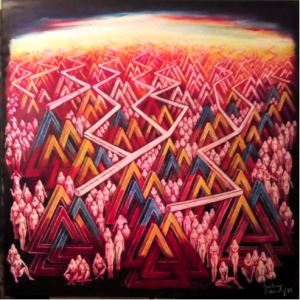 Labirynth, value: 8000 Dollars, 60×60 cm, oil painting
Adventures in California, USA by Surrealist Santiago Ribeiro
LOS ANGELES, UNITED STATES, October 20, 2023 /EINPresswire.com/ — Artworks by surrealist artist Santiago Ribeiro were seen flying in the sky of San Juan Capistrano, California, USA, with the number 23-034751 in the back.
An investigation into the theft of works by surrealist artist Santiago Ribeiro was opened by police officers from San Juan Capistrano, California, USA, under protocol number 23-034751.
The paintings were in the studio of his North American colleague. Works by surrealist Santiago Ribeiro Missing in San Juan Capistrano, California, USA
Recently, he has been the victim of a robbery in San Juan Capistrano, a city in California with 4 works of art by the surrealist artist Santiago Ribeiro with an estimated value of 35 thousand dollars. Due to the absence of the house owner, she is also an artist and a victim of this criminal act.
Ribeiro's works had already toured several countries and several North American cities such as New York, Dallas, Los Angeles, Mississippi, Indiana, and Denver, as well as exhibited on the giant screens of Nasdaq and Reuters Sign In in Times Square in New York as well as in many others.
Three of the Missing art of Santiago Ribeiro are listed above as images
Anyone with any information should contact the San Juan Capistrano Police Services, using this email: [email protected]
The work invites a critique of conformity in today's society, but the artist said that interpretations can vary according to the imagination of his audience.
"I can make the painting with an intention, but people are free to interpret it as they wish. They have even discovered things in my paintings that I had no idea were there", stated Santiago Ribeiro.
"People can see and feel things according to their own imaginative capacity," he continued. "I only create one thing and people are free to feel what comes to mind. That to me is interesting".
Parallax took place at MG Studio, a creative studio located in a privileged space, close to the LA Live complex in downtown Los Angeles – where the Museum of the Grammys and the Microsoft Theater are also located. However, his most recent work lacks any figures. It is a painting entitled 'Empty City', for which the flight of people inspired him because of the war in Ukraine.
In addition to participating in the Parallax Art Fair in Los Angeles, Santiago Ribeiro is also working to organize the 15th edition of International Surrealism Now, an initiative that started in 2010 and whose most recent edition was in 2021.
"Surrealism Now is a union of several artistic trends between 2121st-centuryurrealism, visionary art, fantastic art a,nd abstract art", explained Ribeiro.
The artist mentioned the Coimbra area as a potential host for the exhibition, with no confirmed locations or dates yet.
Portuguese surrealist artist Santiago Ribeiro is the mentor and promoter of the world's largest surrealist exhibition of the 21st century, International Surrealism Now, his work has been exhibited globally, as well as in Berlin, Moscow, New York, Exhibition in Dallas, Los Angeles, Mississippi, Indiana, Denver, Warsaw, Saint Nantes, Paris, London, Vienna, Beijing, Florence, Madrid, Granada, Barcelona, Lisbon, Belgrade, Montenegro, Romania, Japan, Taiwan, Brazil, Minsk, New Delhi, Jihlava (Czech Republic) and Caltagirone in Sicily and several cities in Portugal. Times Square in New York, USA has often reported his exhibition information, and collectors have collected his works in many countries.
Anna Clarke
Surrealismnow
email us here
Originally published at https://www.einpresswire.com/article/662899930/paintings-by-surrealist-santiago-ribeiro-flying-in-san-juan-capistrano-california