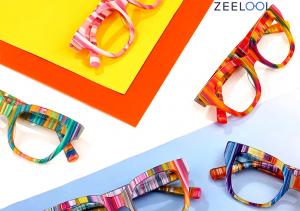 The Zeelool Nereyda candy glasses collection is based on a neo-pop art style that celebrates life's energy, hope, and passion with the help of vibrant colors.
AUSTIN, TEXAS, USA, November 15, 2023 /EINPresswire.com/ — The Zeelool Nereyda candy glasses collection is based on a neo-pop art style that celebrates life's energy, hope, passion, and personality with the help of vibrant colors. Each frame in the collection features vibrant and unique color combinations, bold cat-eye shapes, and a pattern of asymmetrical colors that convey a sense of positivity and willingness to experiment.
Neo Pop is a revival of Pop Art styles and ideas that began in the 1980s as a response to the minimalism of the 1970s. It draws on the vibrant and bold style of Pop Art and derives inspiration from similar areas of life such as celebrity, pop culture, and advertising.
Wearing different styles of eyeglasses is a way to express one's uniqueness, and the Zeelool Nereyda candy frame glasses collection is unique and versatile as a women's fashion statement piece, suitable for all skin tones, face shapes, and ages. Frames that make a statement and encourage people to embrace their uniqueness and express themselves through fashionable eyewear.
It allows people to be confident in their fashion and image and to be better looking for parties, travels, and more.
Zeelool Nereyda candy glasses feature:

Cat eye shape frames

Cat eye frames are one of the popular women's frames, frames with exaggerated shapes, very feminine, and popular among women.

Vivid colors

The high-quality acetate material is infused with vibrant colors. No matter how long she wear them, the colors are as vibrant as when she first bought them.

Flexible spring hinges

In order to adapt to various face shapes, the designers use flexible spring hinges to fit various face shapes.

Random frame colors
Due to the unique and creative method, each pair of candy glasses ordered will be randomly assigned, but the color pattern of each pair of glasses is unique, and the only one that they will surely endow with more love.
About Zeelool

Zeelool is a one-stop online eyewear store for selling women glasses, men glasses, kids glasses, prescription glasses, cat-eye glasses, and sunglasses.
Founded in 2017, Zeelool is dedicated to providing users with fashionable, innovative and high-quality eyeglasses and sunglasses. Zeelool offers more than 2,500+ fashionable, cost-effective, and quality fashion frames glasses with a complete design team, and R&D team covering the whole process of eyewear manufacturing, strict warehouse management and first-class shipping service for users.
Zeelool.com aims to provide per wear with high-quality eyeglasses at affordable prices.
Zeelool Optical
NEXTMARVEL INC
+1 302-990-0619
email us here
Visit us on social media:
Facebook
Twitter
Instagram
YouTube
TikTok


Originally published at https://www.einpresswire.com/article/668631391/zeelool-launches-vibrant-candy-glasses-collection