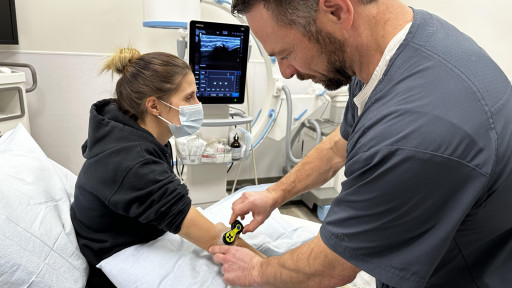 The Interventional Orthobiologics Foundation Conference is one of the largest gatherings of orthopedic and interventional pain specialists in the United States with a focus on innovation
Dr. Thomas Nabity at the Michigan Center for Regenerative Medicine Treats Tennis Elbow With sam\u00aex1
SCOTTSDALE, Ariz., February 16, 2023 (Newswire.com) - ZetrOZ Systems announces that the company is participating in the 8th Annual Interventional Orthobiologics Foundation (IOF) Conference at the Doubletree Hotel in Scottsdale, Arizona, from Feb. 16-19, 2023. ZetrOZ will present and showcase its sam®X1 and sam®2.0 wearable ultrasound devices to show how sam® is a suitable treatment alongside other regenerative treatments, like platelet-rich plasma therapy.
The conference brings together experts within orthobiologics and regenerative medicine to discuss the latest advancements and innovations. The event will also feature dynamic educational talks by leading experts, engaging fireside and poolside chats, and hands-on technical labs that will provide attendees with practical knowledge and skills.
"The IOF conference provides the perfect platform for ZetrOZ to showcase its soft tissue healing product portfolio to a large audience of healthcare professionals, researchers, and investors," said Dr. George Lewis, founder and CEO of ZetrOZ Systems. "We look forward to meeting with leading experts in the field and sharing our vision for the future of wearable pain management technology."
The Interventional Orthobiologics Foundation conference is among the most significant events in the field of orthobiologics and regenerative medicine, with informative presentations, hands-on workshops, and interactive sessions focused on the latest advancements in the field.
ZetrOZ Systems is proud to showcase its range of wearable devices at the conference. The company's cutting-edge technology provides non-invasive, drug-free pain relief to patients suffering from various conditions, including chronic pain, arthritis, and sports injuries.
sam®2.0 is the second generation of its long-duration, wearable ultrasound device that accelerates the natural healing process and reduces acute pain associated with tendon, ligament, and muscle injuries without the need for surgery or powerful pain medications.
The sam® x1 is designed with portability and ergonomics in mind, delivering the same ultrasound technology in a convenient and wireless wearable form factor, delivering 33 times more energy than a bone-growth stimulator after just one hour of treatment.
To learn more, visit zetroz.com.
About ZetrOZ Systems
ZetrOZ Systems is leading healing innovations in sports medicine, developing wearable bioelectronic devices for the delivery of sustained acoustic medicine (sam®). Researched and funded by the federal government, ZetrOZ is built on the proprietary medical technology of +46 patents. The exclusive manufacturer and developer of the sam® product line is designed for the treatment of acute and chronic musculoskeletal conditions.
Contact Information:
Buse Kayar
[email protected]
Original Source:
ZetrOZ Systems Brings sam® Ultrasound Soft Tissue Healing Innovation to 8th Annual Interventional Orthobiologics Foundation