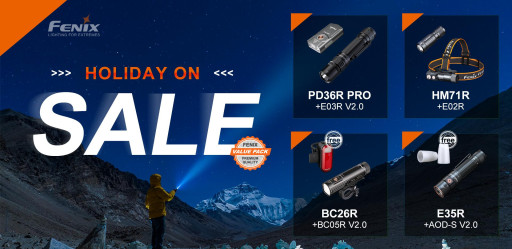 SHENZHEN, China, November 13, 2023 (Newswire.com) - Fenixlight Limited, a professional provider of mobile lighting tools for more than 20 years has always been delivering the ultimate in quality, innovation, and performance. On October 10, Fenix started the 2023 Annual Sale Promotion - to thank customers for their continuous support and to provide added value or incentives to consumers, wholesalers, and retailers.
Promotional Kits
The PD36R Pro+E03R V2.0 promotional kit is currently available for purchase with an 11% discount. The combination of PD36R Pro and E03R V2.0 can provide you with high-performance lighting experiences and unparalleled convenience. This combo is perfect for various situations such as hiking, power outages, dog walking, car repairs, and exploring. It can easily fulfill most of your lighting requirements.
Next is the HM71R+E02R promotional kit, which shares the same discount as the PD36R Pro+E03R V2.0 promotional kit. If you prefer hands-free lighting, this combo may be your best choice. The Fenix HM71R is a detachable outdoor headlamp that can be easily attached to your pocket or backpack for hands-free illumination. Featuring spot- and floodlights, the headlamp is excellent both in long-distance and wide-angle lighting, making it an optimal choice for industrial maintenance and electrical troubleshooting. The Fenix E02R is a rechargeable mini keychain light that weighs only 15 g. When you are heading home after a long day at work, it will be safer to use it to light your way at night. This combo is the ideal companion for both your professional and personal life.
Combo Offer
Buy One, Get One Free
To thank our customers, this Fenix discount offer is very high and attractive. You are provided with two products but paying the price of one product. You can purchase one BC26R for $89.95 and receive one BC05R V2.0 for free. Additionally, you can buy one E35R at $79.95 and get one AOD-S V2.0 for free.
Limited Edition
These limited edition products are now also available for purchase. For the upcoming holiday season, we have designed a gift edition of the 2023 ISPO Award winner Fenix E03R V2.0 with a limit of 3,000 pcs available at a price of $34.95. The Tropic Green version of the TK16 V2.0 is now also on sale at a price of $99.95, with only 2,000 pcs available.
Battery Tie-in Promotion
1. Buy one TK35UE V2.0 at a regular price and get two ARB-L18 Series batteries at 50% off.
2. Buy one HM65R-T/PD35R/TK20R V2.0 at a regular price and get one ARB-L18 Series battery or one ARB-L21 Series battery at 50% off.
The above options are only valid during the promotional period. After the promotion, the remaining products will be sold at regular prices.
Available for purchase at: https://www.fenix-store.com and https://www.fenixlighting.com
Contact Information:
Ellen Zheng
Marketing Specialist
[email protected]
+86 13631044156
Original Source:
2023 Fenix Annual Sales Promotion: Light Up Your Life