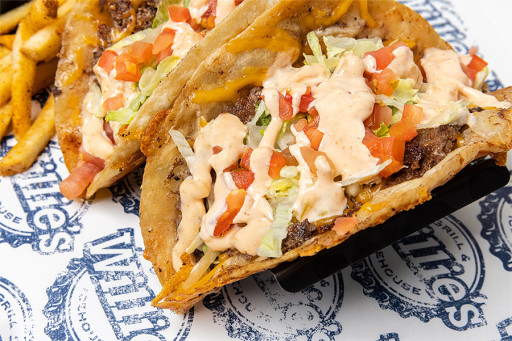 The Beloved Texas Icehouse Welcomes the Fall Season With Exciting Menu Additions and Budget-Friendly Entrees
HOUSTON, October 4, 2023 (Newswire.com) - Willie's Grill & Icehouse is welcoming the long-awaited fall season with delicious new menu items that pack a flavorful punch. Willie's is rolling out changes to menu items that include mouthwatering tacos, along with margaritas that will appeal to the young at heart.
With cooler fall temperatures on the way, Willie's is warming things up with their new savory dishes. The quintessentially Texan icehouse is putting their unique spin on a classic with their brand new Cheesy Smash Tacos. All tacos are made of corn or flour tortillas that are smashed with cheese on the outside, while the protein and contents pack the entirety of the tortilla, filling the taco to the brim with flavor. Available now at all Willie's Grill & Icehouse restaurants are the Burger Smash Tacos, two smashed burger patty tacos, topped with lettuce, tomatoes, and house-made 1000 island, served with choice of one side for $8.99; Chipotle Ribeye Tacos, two shaved chipotle ribeye tacos, topped with onion and cilantro, spicy crema, and cotija cheese, served with choice of one side for $12.99; and Chicken Tendie Tacos, two fried chicken tender tacos, topped with lettuce, pico de gallo, cheddar cheese, and jalapeno lime aioli, served with choice of one side for $9.99.
Adults looking to add some whimsy to their happy hour gatherings and dinner dates can now order the Bomb Pop Rita at Willie's locations that feature bars. The margaritas are available in Lime, Strawberry, and Traditional (with blue curacao) flavors and are topped with a red, white, and blue Bomb Pop popsicle. The new bar menu feature is perfect for washing down the Cheesy Smash Tacos or any of the other icehouse favorites that Willie's is known for across the state of Texas.
"We've all seen the smash burger phenomenon that has swept the nation. Our Cheesy Smash Tacos are a delicious spin on an age old dish, the Taco Dorados," said Greg Lippert, CEO of Willie's Restaurants. "Making our menu accessible from a cost perspective is also hugely important to the Willie's brand, so we are happy to offer these delicious combos at an affordable price. Throw in Bomb Pop Ritas and fall is off to an excellent start."
At Willie's Grill & Icehouse, everyone belongs. Started in 1993 as a humble burger joint in Houston, Texas, Willie's has grown into a Texas institution with 20 locations statewide, beloved by millions as the family's favorite place to unwind. At Willie's, arcade games await the kids and young at heart while wide-open giant garage doors reveal ample patio spaces with sandboxes and plenty of room to play and relax. Juicy burgers piled high with fixings anchor the gargantuan menu of delicious Texas comfort food, promising something for everybody. For locations, hours, menus, and more, visit www.williesgrillandicehouse.com.
Contact Information:
Rachel Austin
Publicist
[email protected]
Original Source:
Willie's Grill & Icehouse Puts Fresh Spin on Smash Burger Trend With Cheesy Smash Tacos