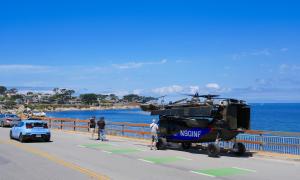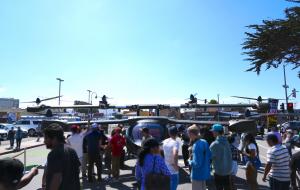 ASKA was an exhibitor and sponsor at Exotics on Broadway
The size of a large SUV, ASKA A5 fits in a regular parking place
4-seater Drive & Fly vehicle is a sensation at Motorlux, Exotics on Broadway, Supercar Blondie takes ASKA A5 for test drive
MOUNTAIN VIEW, CALIFORNIA, USA, August 21, 2023/EINPresswire.com/ — ASKA A5, the world's first flying car to start the type certification process with the FAA, was an exhibitor and sponsor at high profile kickoff events at world famous Monterey Car Week (August 11-20, 2023 in Monterey, CA). ASKA, an air mobility company based in Mountain View, showed advanced capabilities including on-road driving demonstrations and public displays of the wings opening and closing, and the props turning.
ASKA A5 did not rise from the ground during Car Week (in accordance with event regulations) but it attracted huge attention from attendees at Motorlux (formerly known as Motorworks Revival) hosted by Hagerty, an exclusive event at the Monterey Jet Center that showcases luxurious private jets and vintage cars.
The grande finale for ASKA A5 was demonstrations at a special open air exhibit space at Exotics on Broadway in Seaside, CA. This event featured exotic and supercars and is the largest single day attended event during Monterey Car Week, averaging 40K visitors.
Supercar Blondie at the wheel

One of the journalists and influencers who took A5 for a test drive was Alex Hirschi, founder and owner of Supercar Blondie, known worldwide for her coverage of the coolest cars and tech with 95M followers. See what happened when Alex got behind the wheel of the A5 and cruised through Pebble Beach. https://youtu.be/STUdSzGB8xE
The ASKA A5 drive & fly vehicle has received authorization to drive on public roads from the Department of Motor Vehicles (DMV). The full-scale prototype has also been awarded Certificate of Authorization (COA) and Special Airworthiness Certification by the FAA and successfully achieved airborne tethered flight testing.
"This event was a major public demonstration of advanced technological achievements, such as driving and opening and closing the wings and the props turning," explained Guy Kaplinsky, CEO/Cofounder. "The last big event for us was CES Las Vegas in January 2023, when we debuted the fully-functional full-scale prototype of ASKA A5. We are hitting our targets for this year and progressing with type certification with the FAA."
"Advanced Air Mobility (AAM) can scale when it seamlessly integrates with the first and last mile, and the existing ground infrastructure. People are embracing the future of transportation and we believe that is to drive and fly," stated Maki Kaplinsky, Chair, COO/Cofounder. "Based on our interactions with the general public, at industry events like Monterey Car Week and during our 300 miles of road testing, we see increasing acceptance of air mobility. We also have a steady spike in pre-orders."
The size of an SUV, the four-seater ASKA A5 is a drive & fly eVTOL that can travel by road and air. The vehicle is designed for the highest level of safety, a key factor that has enabled the company to make positive progress with the FAA toward type certification.
– Dual hybrid energy supply: ASKA is hybrid with batteries and a range extender engine that charges the batteries in-flight. Uses premium gasoline available from today's gas stations

– Large aerodynamic wings, optimized for safe landing with ability to glide

– Six independent motor systems for flight

– Sufficient reserve flight time to meet FAA safety requirement

– Ballistic parachute

– 4-seater (1 pilot and 3 passengers)

– Capable of Vertical Takeoff and Landing (VTOL) from helipads and Short Takeoff and Landing (STOL) from runways

– Max flight range 250 miles

– Airspeed up to 150mph
ASKA A5 makes the maximum use of existing infrastructure, such as parking, charging stations, airfields, helipads and runways, for a seamless integration into city and suburban landscapes. The vehicle fits in standard parking spaces, it can be charged at home and EV charging stations, and the range extender engine runs on premium gasoline purchased at existing automotive gas stations.
Pre-order reservations launched in 2021 and the company has already secured $50M in pre-orders of the ASKA A5.
About ASKA

ASKA is an air mobility company headquartered in Mountain View, California that is developing the ASKA A5 drive & fly eVTOL (electric Vertical Takeoff and Landing), a real flying car.
ASKA A5, the world's first drive & fly eVTOL, enables people to move faster and greener with the comfort of door to door travel, making the maximum use of the existing infrastructure. The four-seater ASKA A5 drives on the road like a car, is capable of vertical takeoff and landing (VTOL), as well as short takeoff and landing (STOL), and flies as an aircraft.
The company signed a five-year Space Act Agreement with NASA in 2020 to advance their participation in NASA's Advanced Air Mobility National Campaign (AAM), jointly organized with the FAA.
The company was founded in 2018 by Maki and Guy Kaplinsky, experienced technology entrepreneurs. Their previous startup, IQP Corporation, was an early innovator in the Internet of Things and acquired by GE in 2017.
Maki Kaplinsky
ASKA
email us here
Visit us on social media:
LinkedIn
Instagram
YouTube
SuperCar Blondie takes ASKA A5 for a test drive


Originally published at https://www.einpresswire.com/article/651172331/aska-a5-flying-car-publicly-demonstrates-advanced-capabilities-for-the-first-time-at-monterey-car-week