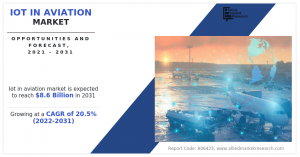 IoT in Aviation Market Size, Trends, Share, Analysis, Technology
WILMINGTON, DELAWARE, UNITED STATES, October 16, 2023 /EINPresswire.com/ — According to a new report published by Allied Market Research, titled, "IoT in Aviation Market," The IoT in aviation market size was valued at $1.3 billion in 2021, and is estimated to reach $8.6 billion by 2031, growing at a CAGR of 20.5% from 2022 to 2031.
North America includes the U.S., Canada, and Mexico across which the IoT in aviation market has been studied. The North America IoT in aviation market is expected to grow at a significant rate during the forecast period, due to the adoption of new digital solutions for air traffic management, and to enhance airport operations.
Request Sample Pages- https://www.alliedmarketresearch.com/request-sample/6790
Airports in North America have witnessed an increase in number of passenger & cargo traffic in 2021. In 2021, overall passenger traffic increased by 73% in 2021 as compared to 2020, and overall cargo traffic increased by 12.8% in 2021 as compared to 2020. This increase in air traffic provides high potential for IoT implementation to enhance customers' flying experience. Moreover, few airports in North America have already implemented IoT based solutions to enhance airport operations, which supplements the IoT in aviation industry growth. For instance, Seattle-Tacoma International Airport (SEA) has implemented IoT solutions to enhance the customer experience.
Few countries have started to implement IoT enabled smart baggage trolley system at the airport in their region, which is boosting the growth of the market during the forecast timeframe. For instance, in November 2020, in India, GMR Hyderabad International Airport (GHIAL) has introduced an Internet of things (IoT)-enabled smart baggage trolley system for tracking and maintaining the availability of baggage trolleys in real time across the airport. Under the Airport Baggage Trolley Project, the entire fleet of 3,000 baggage trolleys have been installed with the LoRa (Long Range) platform. This project will reduce passenger waiting times and ensure adequate availability of the trolleys in real time.
MRO in aviation referred to maintenance, repair and overhaul. MRO focuses on inspection and correcting problems in aircraft components. Use of internet of things (IoT) in MRO related activities results in greater efficiency and less downtime for aircraft fleets. Aircraft companies in numerous countries are utilizing IoT to enhance their operational efficiency. For instance, Lufthansa has developed AVIATAR open platform for predictive maintenance. This aircraft IoT solution enables airlines to consistently monitor performance of aircrafts through sensors installed throughout the aircraft. If the system detects any malfunction in any part of aircraft during the flight, then a message is sent to ground crews to have necessary equipment for the repair or replacement upon arrival.
Procure Complete Research Report- https://www.alliedmarketresearch.com/iot-in-aviation-market/purchase-options
Aircraft manufacturers have also started to utilize internet of things (IoT) to develop powerful analytical techniques which will boost operational effectiveness. In addition, IoT aids the manufacturers to develop aircraft effectively and efficiently. Aircraft manufacturers have started adopting IoT-enabled smart meters in aircraft manufacturing in order to gain insight related with the energy usage throughout the entire production period. These smart meters analyze energy usage & propose energy-saving measures by exploiting advanced analytics algorithms.
IoT is increasingly being used to enhance passenger experience. Passenger experience focuses on utilization of IoT to enhance the traveling experience of passenger from check-in point to boarding an aircraft. IoT has the ability to provide passenger with details about finding right boarding gate, alerts about departure time, and any change in schedules, customizing in-flight experience, and personalized recommendations based on previous choice.
Factors such as increase in air traffic across the globe, need to enhance the passenger experience, and greater need for improved air safety are expected to drive the market growth. However, potential risks associated with cyber threats is the factor that hampers the market growth. Furthermore, greater demand for air traffic solutions from emerging nations, and automated aircraft monitoring are the factors expected to offer lucrative opportunities for the global IoT in aviation industry growth.
Make An Inquiry Before Buying- https://www.alliedmarketresearch.com/purchase-enquiry/6790
KEY FINDINGS OF THE STUDY
By component, the hardware segment is anticipated to exhibit significant growth in the near future.
By end user, the airport segment is anticipated to exhibit significant growth in the near future.
By application, the passenger experience segment is anticipated to exhibit significant growth in the near future.
By region, Asia-Pacific is anticipated to register the highest CAGR during the forecast period.
Key players operating in the global IoT in aviation market include Cisco Systems, Inc., Globeranger Corporation, Honeywell International Inc., Huawei Technologies Co., Ltd., IBM Corporation, Microsoft Corporation, SAP SE, Sita, Tata Communications Ltd., and Wind River Systems, Inc.
David Correa
Allied Analytics LLP
+1 800-792-5285
email us here
Visit us on social media:
Facebook
Twitter
LinkedIn


Originally published at https://www.einpresswire.com/article/662111267/iot-in-aviation-industry-will-dominate-in-coming-years