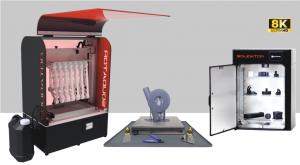 Series production: 17 seconds per part
Series production: Lego(R) Bricks printed in 5 Seconds per Piece
tangible engineering shows ultra-fast Solidator 3D printer with 8K resolution and a production rate of 9157 cc/hr with a large build volume of 330x185x400 mm
We can now produce parts for our push-to-open mechanism in an impressive 17 seconds per part or, for example a Lego® brick in 5 seconds . These scales were previously unattainable."
— Tim Fischer, Managing Director tangible engineering GmbH
STUTTGART, GERMANY, November 3, 2023 /EINPresswire.com/ — At Formnext 2023, tangible engineering will be presenting the ultra-fast Solidator 8K Resin 3D printer with an impressive 8K resolution. The German company is revolutionizing the 3D printing market with a production rate of up to 9157 cm³ per hour and a large build volume of 330 x 185 x 400 mm.
"We have been using the Solidator ourselves in our production for years," says Tim Fischer, Managing Director of tangible engineering GmbH. "We can now produce parts for our push-to-open mechanism in an impressive 17 seconds per part or, for example, a Lego® brick in 5 seconds in series production. These scales were previously unattainable."
The new Solidator makes 3D printing economically viable for series production The new system makes series production in 3D printing economical and flexible. The frequent break between prototyping and series production in practice is resolved. End-use parts can be produced economically with the new system using the 3D printing process. Future products can thus be manufactured in digital warehouses as required using the 3D printing process wherever they are needed.
The broad material portfolio comprises 19 materials, including specialties such as ESD resin, ceramic composites, ultra-tough, high-temperature and materials for dental technology. This makes the Solidator 3D printer suitable for many industries: From the automotive industry to dentistry.
Another special feature of the printer is its automatic refill system, combined with the calibration of all subsystems. These features, combined with the high production rate, make it the ideal choice for series production.
Precision thanks to native 8k ultra HD resolution
With 8K resolution, the printer achieves an impressive depth of detail of 43 microns, which is about as thick as a human hair. This precision is ideal for fine details and ensures smooth surfaces – a major advantage in mold making and dentistry.
The innovations at a glance:
The 4th generation of the Solidator quadruples everything compared to the already very fast Solidator 3+:

* 4 times the speed

* 4 times the number of voxels in the build space (8K resolution)

* 4 times larger selection of materials
Interested parties can see the advantages for themselves at the Formnext trade fair 2023 in Hall 11.1 Stand E21, Frankfurt Germany.
More information is available at: https://solidator.com
Video: https://vimeo.com/880556816

Download images: https://solidator.blob.core.windows.net/presskit/PressKit-Solidator-8K-Images.zip
Tim Fischer
tangible engineering GmbH
+49 711 2195580
email us here
Visit us on social media:
Facebook
Instagram
Solidator Material Demonstration


Originally published at https://www.einpresswire.com/article/666079087/tangible-engineering-showcases-ultra-fast-8k-large-format-resin-3d-printer-solidator-at-formnext-2023