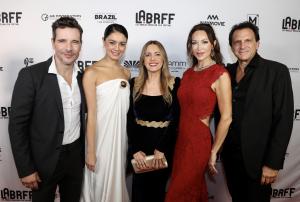 Marcos Daniel Ferreira / Left to right: Daniel de Oliveira, Sophie Charlotte, Meire Fernandes, Sophia Milos & Peter Allas
Marcos Daniel Ferreira / Felipe and Glênia Alexandre
The Los Angeles Brazilian Film Festival was graced with the presence of Sophia Milos, Peter Allas, Sophie Charlotte, Daniel de Oliveira & Gabriel Braga Nunes
LABRFF fights hard to resist, today we have the greatest films in Brazil with us, a very good and important lineup"
— Meire Fernandes, Founder of LABRFF
LOS ANGELES, CA, USA, October 24, 2023 /EINPresswire.com/ — The Los Angeles Brazilian Film Festival hosted its sixteenth edition this Monday, October 23rd, with the international premiere of the film Red Monet, directed by Halder Gomes. The opening night included a cocktail reception for filmmakers and artists. Among the 300 people present were Italian actress Sophia Milos, the American Peter Allas, and the Brazilian actors Sophie Charlotte, Peter Allas, Daniel de Oliveira and Gabriel Braga Nunes. The festival celebrates another edition with a fine selection of films and renowned names in entertainment sponsored by AG Immigration and Jamm Cigar.
The Culver Theatre, in Culver City, CA, was filled with the joy of Brazilians living in Los Angeles and those who had the opportunity to fly to the United States to honor their films at the festival. LABRFF's founder, Meire Fernandes, is very proud of the solid and prominent path the festival is taking. "The [LABRFF] fights hard to resist, today we have the greatest films in Brazil with us, a very good and important lineup," says Meire and adds that the festival intends to continue fighting for Brazilian cinema and do what they do best collectively.
The lawyer Felipe Alexandre, representing AG Immigration, official sponsor for the second year in a row, agreed with the founder's words and added his deep admiration for the artists who fight for their art and for the pursuit of their dreams. On Wednesday the 25th, Alexandre will host a panel on immigration and Hollywood open to all festival attendees, for more information visit www.labrff.com.
Following the cocktail program, red carpet and exclusive local media coverage, the film Red Monet, directed by Halder Gomes, had its international premiere. The director was accompanied by Carina Sanginitto, the film's Director of Photography.
Today, on the second day of the festival, the theaters will feature the short films Jane, by Kyle Michaels, Snail, by Renato Fimene, Half a Dance, by Diego dos Anjos, Pretas, by Barbara Marques, Last Dance, by Joana Claude and Renan Barbosa Brandão; the feature films The Hijacking of Flight 375, by Marcus Baldini, Angela, by Hugo Prata, and more. The festival continues until Thursday, October 26th, and the full program can be found at www.labrff.com.
SILVER SPONSORS

AG Immigration

Jamm Cigar
CULTURAL PARTNERS

Copa Airlines

Brazilian Consulate
INDUSTRY PARTNERS

The Culver Theatre

Canal Brasil

Festival de Cinema de Vassouras no Vale do Café

Mistika

Naymovie

O2 Play

Audio Porto

6 Curta Caicó Festival de Cinema
COMMUNITY PARTNERS

The Los Angeles Film School

Supermercado Brazil

Ubatuba Açaí

Pimenta Brazilian Cuisine

Culver City

Palihotel Culver City

Darcio Coiffem Hair Studio

Rosa's Catering

Thalita Paiva Makeup Artist

Esquina Brasil

Hi Brazil Market

Chateau Jolie
MEDIA PARTNERS

t. PR

Flavia Fusco Comunicação

Soul Brasil Magazine

QCE Podcast
—
Thais Eliasen
t. PR
+1 774-319-0317
[email protected]
Originally published at https://www.einpresswire.com/article/663948537/brazilian-cinema-is-celebrated-in-the-heart-of-los-angeles-this-monday-23rd-with-the-opening-of-the-labrff