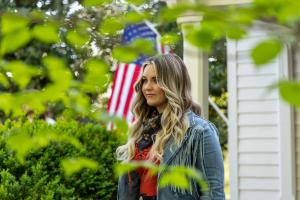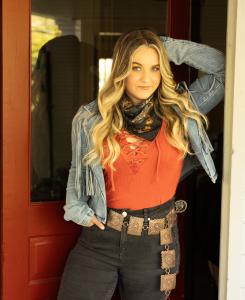 Jess Kellie Adams on the set of the "Homemade" music video. Photo by Michael Gomez.
Rising Country/Rock artist Jess Kellie Adams releases new music video, available now on The Heartland Network
NASHVILLE, TN, UNITED STATES, September 7, 2023/EINPresswire.com/ — Boot-stomping beauty and breakout Country singer/songwriter Jess Kellie Adams released a new music video for her recent single, "Homemade" on Aug. 25. "Homemade" was seen first on The Heartland Network and is the latest single off her upcoming EP. The single was produced by Lonestar's founding member Dean Sams and co-written with Dean Sams and Lauren Mascitti.
Watch the music video here: https://youtu.be/KsPFSxmGZGg?feature=shared
"When I received the finished video from TapeSlate Productions I was moved to tears. 'Homemade' is my story and the perfect introduction to me. They brought my story to life in only three minutes, and seeing it represented in that way felt like a warm hug. I was raised by a loving single mom who protected me from the challenges she faced. Later in life, she shared memories of going to her car on lunch breaks to break down in tears before putting on a brave face and going back into work. She bravely rose to the occasion on a daily basis. My hope is to one day be at least half the woman she is. Like the song says at the end of the first verse, 'With daddy gone we were alone, some might say I was cheated. But they were wrong all along, I had everything I needed.'"
Through the music video, fans get an exclusive look behind the curtain of this touring artist's life. Jess welcomes fans into her home and her heart by filming the video in a house that resembles the one she grew up with. Old home videos are inserted throughout the video, where a young Jess runs around, joyful and free. We learn how growing up with a single mom strengthened her ambition and determination to succeed. As the video ends, viewers are left feeling empowered to embrace their own past and reach their goals, as Jess is called by her tour manager to take the stage in front of a roaring crowd.
Stream "Homemade" here:

https://songwhip.com/jesskellieadams/homemade
The accompanying visuals are especially touching when paired with lyrics such as,

"I was raised in a house where love was found

And your word always stood for something

Mama worked twice as hard to go half as far

But I never had to want for nothin

God was my salvation

He gave me strength when the haters were hatin'

Stone by stone my whole foundation was laid

I was Homemade"
With rural roots that traverse Texas, Ohio and Tennessee, Jess Kellie Adams is swiftly blazing a path on the country scene. Having opened for Justin Moore, Rodney Atkins, Parmalee, Craig Morgan and Ernest, her brazen lyrics and fierce vocals are carved from the leading, only one name needed, ladies that serve as the foundation and current face of the genre. It's her authentic connection to her real-life stories that she captures in her songs which has enabled her to connect with fans at stages across the country. What she values most, her family and community, are ever present in her sound and persona. Her newest single "Homemade" is the title track on an upcoming six-song EP.
"Homemade" video credits:
Directed and Edited by: Bryson Sams

Produced by: Bryson Sams and Dean Sams

Director of Photography: Joseph An

Key Grip: John Chick

Production Assistants: Luke Best and Raphael Scroggins

Starring: Jess Kellie Adams and Todd Rossbach (Tour Manager)

Hair and Make-up: Katrina Brooks

Special Thanks to: Lonestar, "The Brigadoon", Michael Gomez, Slick Lawson Foundation

Video Production Company: TapeSlate Productions
Raving Reviews for Jess Kellie Adams
"Jess Kellie Adams opened for us twice in 2022 and was top shelf. She leaves it all on the stage and really engages the crowd with an energetic, fun and honest show. Jess is a great entertainer, singer, and up and coming artist! If you're looking for a true professional that loves what she does, Jess makes a great opener for any national act!" – Dean Sams, Founding Member/Piano Player of the multi-platinum selling group Lonestar
"What a pleasure it is to know Jess Kellie Adams as a friend but also as an artist. I'd have to say she and her group are some of the easiest people to work with! No drama, no attitudes, no vulgar language, no drugs or alcohol, just one heck of a show! If you book this young lady for your event, you can rest assured, she will give you 100% on and off the stage!" – Ken Woodward, Vice President of Variety Attractions.
"It was our pleasure to have Jess Kellie Adams play our Homegrown & VIP stages at Country Concert '21! She dazzled audience with well written songs & beautiful vocals, drawing her loyal fans to our event and making new fans of the people that were seeing her for the first time." – Paul Barhorst, Country Concert
About Jess Kellie Adams
Jess Kellie Adams is on a mission to spread love, joy, and excitement with her unique, honest storytelling and high-energy shows. Texas-born, Ohio-raised and Nashville-living, her songwriting draws from her influences including Miranda Lambert, Bonnie Raitt, Martina McBride and Dolly Parton. She is quickly establishing herself as one of the rising stars in country music, using her calling to amplify small town experiences and the shared community that serves as the foundation for the genre.
The Ohio-native grew up listening to the Grand Ole Opry with her grandpa and devouring every song that played on her local country station. Honest storytelling lies at the heart of everything she does. Jess wants her fans to listen to her music and think about the value of family and how memories made with loved ones are what matter most.
Jess' songs have taken her to many venues, fairs and festivals across the United States. In 2021, she played Country Concert in Ft. Loramie, OH, and was on the bill with Luke Combs, Jon Pardi, Ashley McBryde, Neal McCoy, Lainey Wilson and Niko Moon. She has shared the stage with artists such as Kip Moore, Darryl Worley, Diamond Rio, Jason Michael Carroll, Josh Thompson, The Swon Brothers, John Michael Montgomery, Billy Ray Cyrus, Daryl Singletary, Julianne Hough, the late Joe Diffie, and Lonestar twice. Jess has been featured on CMT.com, Taste of Country, The Country Network, Heartland and more.
Jess will continue blazing her path through the Southeast and Midwest with her 2023 tour. Keep up with her schedule and all the good news at www.jesskellieadams.com.
Follow Jess Kellie Adams Online:

Website: www.jesskellieadams.com

Facebook: www.facebook.com/JessKellieAdams

Instagram: www.instagram.com/jesskellieadams

Twitter: https://twitter.com/jesskellieadams

TikTok: www.tiktok.com/@jesskellieadams

Spotify: @JessKellieAdams

Apple Music: @JessKellieAdams

YouTube: @JessKellieAdams
Becky Parsons
PLA Media
+1 615-327-0100
[email protected]


Originally published at https://www.einpresswire.com/article/653980316/nashville-country-artist-with-southern-grit-jess-kellie-adams-releases-new-music-video-for-homemade