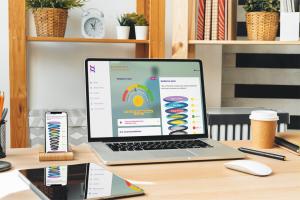 Revamped App Offers Improved User Experience, Streamlined Resilience Diagnostic, and Advanced Reporting Features
Our flagship product, RISE, includes access to the Resilience Digital Toolkit and monthly live expert sessions designed to educate and inspire positive change."
— Brad Hook
LAUSANNE, VAUD, SWITZERLAND, April 27, 2023/EINPresswire.com/ — The Resilience Institute is proud to announce the latest update to their acclaimed Resilience Digital Toolkit. This update introduces a redesigned core toolset, a streamlined user flow, and improved visuals, all aimed at providing users with an enhanced resilience-building experience.
The Resilience Digital Toolkit offers seamless integration of the Resilience Diagnostic assessment with many of the available tools, meaning that individuals can quickly link their personal resilience results with practical tools that support positive habit formation. The upgraded dashboard offers a dynamic and modular interface with fast access to key features, allowing users to quickly continue from where they left off. Standout improvements include the "Tactical Calm" breathing exercise, daily meditations, micro-coaching sessions, and an enhanced video player featuring popular training videos presented by Resilience Institute founder Dr. Sven Hansen.
The Resilience Diagnostic, an essential component of the toolkit, has undergone four rounds of psychometric evaluation for validity, ensuring accurate and reliable results. Successfully used by several of the world's largest companies, the diagnostic measures, maps, and benchmarks human resilience skills, helping guide leadership decision-making. The tool is GDPR compliant and built around principles of privacy by design.
Resilience Institute Partner, Brad Hook, said, "Our objective is to provide exceptional learning experiences for our clients, partners, and community. The latest update to our toolkit demonstrates our commitment to supporting sustainable change on individual and team resilience journeys."
With upgraded group reporting capabilities, organizations can benchmark their resilience against their sector, region, or even the world. Flexible reporting categories allow for measurement by department, seniority, tenure, or any other required criterion. The diagnostic covers 60 factors and 11 categories of resilience, including well-being, emotional intelligence, mental health, and stress mastery.
The Resilience Digital Toolkit is available on the web, iOS, and Android platforms. Existing users can easily download the latest update by searching "Resilience App" in their app store or accessing the toolkit via a secure web link. New users interested in empowering their team with resilience tools can simply contact the Resilience Institute to get started.
For more information about the Resilience Digital Toolkit or the Resilience Institute, please email [email protected].
About the Resilience Institute:
The Resilience Institute is a global organization dedicated to helping individuals and organizations unlock their full potential through resilience measurement and training. By providing comprehensive tools and resources, the Resilience Institute empowers people to cultivate calm, focus, well-being, and self-awareness, paving the way for more resilient and successful lives. The Resilience Institute was founded in 2002.
Bradley Hook
Resilience Institute Global
+1 408 503 6250
email us here
Visit us on social media:
LinkedIn
RISE Resilience Digital Toolkit


Originally published at https://www.einpresswire.com/article/630489146/resilience-institute-launches-enhanced-resilience-digital-toolkit