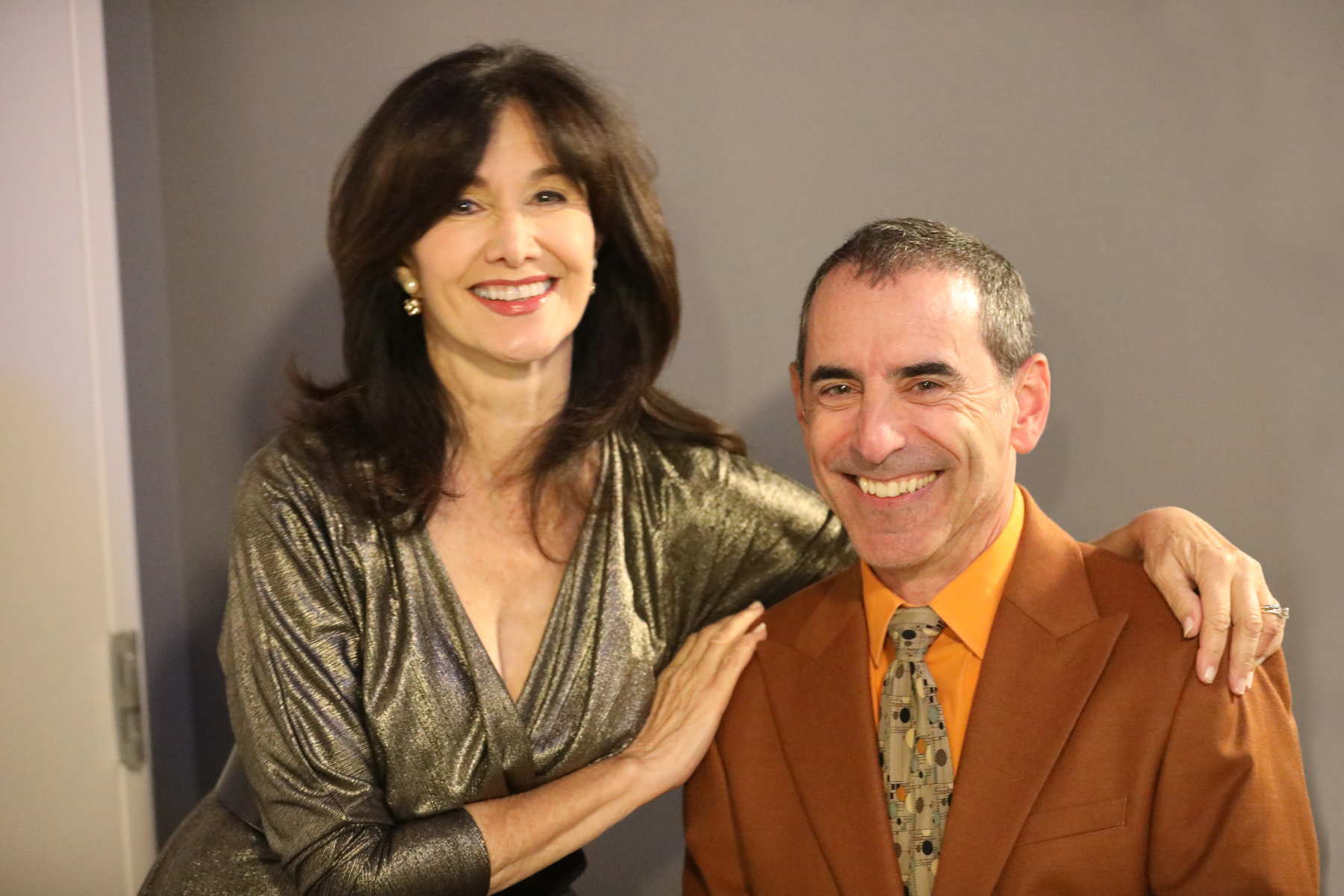 Host Joyce Kulhawik with Brian De Lorenzo – Photo by Deborah J Karson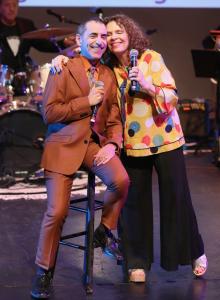 Singers Brian De Lorenzo and Hildy Grossman – Photo by Deborah J Karson
De Lorenzo Sings for 14th Time at Annual Fundraising Event, Which Has Raised Over $3.8 Million in the Past 15 Years
There are good shows and there are great shows, but once in a blue moon you're at a cabaret and you know something extraordinary is going on."
— Beverly Creasey, Cabaret Scenes
BOSTON, MA, UNITED STATES, November 14, 2023 /EINPresswire.com/ — Singer BRIAN De LORENZO—Talent America's "Performer of the Year" and "Top Ten of New York Cabaret"—performed at Upstage Lung Cancer's 2023 annual fundraising concert recently at the Mosesian Center for the Arts in Watertown, MA. Brian has appeared in 14 of the 15 annual concerts.
These events, along with contributions from partners and donors, have raised over $3.8 million to invest in leading edge, early detection lung cancer research. Lung cancer continues to be the number one cancer killer, and De Lorenzo has helped sing out to raise awareness of the need for research.
The theme this year was "Why Don't We…Just Dance?" The program included an Indian Classical dancer, an Irish Step dancer, and an African Fusion dancer, as well as singers performing up-tempo songs about dance.
The evening was hosted––for the 15th year––by Emmy Award-winning Arts and Entertainment critic Joyce Kulhawik. As a three-time cancer survivor herself, Ms. Kulhawik is a tireless advocate, motivational speaker, and television celebrity.
Kulhawik says, "Lung cancer remains an epidemic, and Upstage Lung Cancer is a way to fight back and have some fun along the way. This is an inspiring night with some of the most talented performers anywhere, raising their voices while they lift our spirits in support of a critical cause."
In addition to De Lorenzo, singers Hildy Grossman (The Follen Angels), Michael Hammond (The Company Theatre), and Paula Markowicz (Divas with a Twist); and dancers Sumati Ram-Mohan, Anna Muse, and Merline Fleurime entertained.
Founder of Upstage Lung Cancer (ULC), concert producer, and performer Hildy Grossman says, "I thank all of our performers for being so supportive in our efforts to save lives by early detection of lung cancer. In difficult times, dance can bring joy to an audience. I am grateful to be able to create wonderful musical and theatrical programs to help spread the word about lung cancer while entertaining audiences."
De Lorenzo adds, "What could be better than entertaining people, while also raising money for an important cause? It's been an honor to have performed at this event over multiple years, going all the way back to the first concert in 2009. It was especially exciting to have three different types of dance included this year. I think the audience really enjoyed the variety of this year's show."
Prior ULC events in which De Lorenzo participated include tributes to famous songwriters, performers, and others who had lung cancer, including Nat King Cole, Walt Disney, Rosemary Clooney, Frank Loesser, Dean Martin, Alan Jay Lerner, and Leonard Bernstein. Always creative and innovative, last year's concert was an evening of stand-up comedy and comedic songs.
ABOUT BRIAN DE LORENZO
Talent America "Performer of the Year" and "Top Ten of New York Cabaret" Brian De Lorenzo is an award-winning singer, actor, recording artist, and songwriter equally at home in nightclubs, concert halls, and theatres. He has appeared at venues in New York; London; Chicago; Boston; Puerto Vallarta, Mexico; Buffalo; and Rochester, NY; as well as on cruise ships. Of his latest recording, "I Know More Now," entertainment writer John Hoglund said: "De Lorenzo has a penchant for story songs that pack a profound punch. In this regard, he is always committed and gives thrilling interpretations of old and new gems that speak from the soul." Brian's song "Things Will Get Better," which he wrote during lockdown, was released as a single in May 2023. He is currently recording a "big band" album which he plans to release in the spring. Brian will appear at CabaretFest! Provincetown in June 2024 celebrating Sammy Davis, Jr. and Frank Sinatra in "Sammy & Sinatra at The Sands."
ABOUT UPSTAGE LUNG CANCER
Upstage Lung Cancer (ULC) is the first cancer charity to use music and the performing arts exclusively to accomplish their mission of promoting awareness, advancing understanding, and removing the social stigma of lung cancer. ULC raises funds for research and innovation in early detection and diagnosis of lung cancer. They present concert programs, podcasts (Backstage @ Upstage) and blogs to promote lung cancer early detection research, public education and patient advocacy. Concert proceeds and donations support research to find new methods to detect lung cancer at the earliest possible stage. With this, lung cancer can become a manageable chronic disease.
Brian De Lorenzo
Cabaret Classics
+1 617-506-9050
email us here
Visit us on social media:
Facebook
Twitter
LinkedIn
Instagram
YouTube
Other
Brian De Lorenzo at the Metropolitan Room – The Best Is Yet to Come


Originally published at https://www.einpresswire.com/article/667564623/top-ten-of-new-york-cabaret-brian-de-lorenzo-helps-raise-3-8-million-for-lung-cancer-research