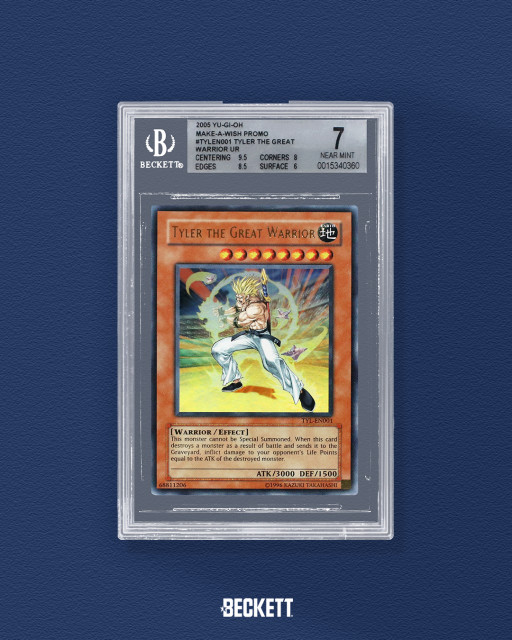 Card's 18-year journey begins with cancer survivor Tyler Gressle's Make-A-Wish Foundation request and concludes with next week's Beckett/eBay/Collectable auction
PLANO, Texas, April 20, 2023 (Newswire.com) - Next week, Beckett Collectibles will partner with eBay and Collectable to auction the world's rarest Yu-Gi-Oh! trading card—the ultra-rare, 1-of-1 "Tyler the Great Warrior" card.
At age 14, Tyler Gressle was stricken with a rare liver cancer and contacted the Make-A-Wish Foundation with a request: He wanted to personally create a card for Yu-Gi-Oh!, the Japanese trading card game he loved. An avid drawer and Yu-Gi-Oh! player, this idea united two of his passions, and the Make-A-Wish Foundation saw merit in the concept and contacted Yu-Gi-Oh! and its creators.
The Gressle family was eventually connected with the company behind Yu-Gi-Oh!. Gressle designed the first draft of the card himself, and the late, celebrated Kazuki Takahashi took Gressle's designs and turned it into an official Yu-Gi-Oh! card. Takahashi chose the name— "Tyler the Great Warrior," and the concept went straight from printing to slab, with no human hands handling the finished card during production.
"Over the past 20 years of my involvement in trading card games (TCG), I have had the opportunity to see an abundance of rare and obscure cards," said Ian Mcdaries, Beckett's lead TCG verifier. "From world-famous cards such as the Pikachu Illustrator to the prestigious BGS 10 Alpha Black Lotus, 'Tyler the Great Warrior' represents the pinnacle of my TCG career. As someone who has collected and played Yu-Gi-Oh! since its genesis back in 2002, having the opportunity to be a part of Tyler's journey was a real privilege."
Since its printing, the card acquired a lore of its own, with collectors debating its existence. Today, it is the rarest Yu-Gi-Oh! Card in history. Gressle approached Beckett Collectibles to grade the card, and after two decades, "Tyler the Great Warrior" will pass to its next owner. The auction can be viewed here.
About Beckett Collectibles
The mission of Beckett Collectibles is to provide the most amazing products and services on the planet for collectors. The iconic brand was founded in 1979 by Dr. James Beckett as a pricing guide for classic American sports cards. The company has since expanded into several other collectible categories with its signature price guidance, grading services, and print and digital tools for enthusiasts and professionals in the hobby. With over 30 years of experience assembling the industry's most comprehensive collectibles database, Beckett is uniquely positioned to become the world's premier alternative assets platform.
Contact Information:
Scott Roskind
Chief Visionary Officer
[email protected]
Original Source:
Beckett Collectibles Announces Auction of 'Rarest Card in Yu-Gi-Oh! History': The One-of-One 'Tyler the Great Warrior' Card