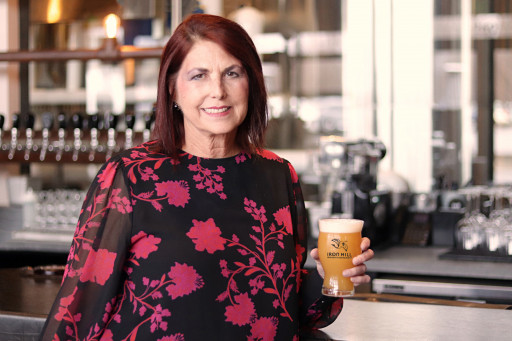 Pennsylvania-based Brewery and Restaurant Group Taps Seasoned Restaurant Professional to Lead Operations
EXTON, Pa., February 16, 2023 (Newswire.com) - Iron Hill Brewery recently announced Kathryn Henderson as the new Chief Operating Officer. Henderson will oversee the individual restaurants' day-to-day operational team, as well as continue to strategically position Iron Hill as a premier brewery and restaurant group throughout the Eastern seaboard.
"I am thrilled to announce Kathryn as our new COO," says Iron Hill CEO Chris Westcott. "The experience she is bringing to our organization will ensure that our operations continue to adapt as we grow, further elevating our reputable service and hospitality."
Most recently, Henderson served as the Senior Divisional Vice President of Earl Enterprise, which she began in 2020. Prior to this, she climbed the ranks of the industry, starting as the regional director in the Sullivan's restaurant group, where she was responsible for over 40 restaurants. She has also worked with McCormick and Schmick's Seafood and Steaks, Bravo Brio Restaurant Group and Rosa Mexicano, all within the operational division. She holds a BA from Old Dominion University.
"I am honored to be joining Iron Hill, a leader in the restaurant and brewery scene for over 25 years," says Henderson. "The experience that guests receive at Iron Hill is deeply rooted in the daily operations, and I am very excited to see how we can push the boundaries and continue to reimagine how we do things."
"Kathryn's track record in restaurant operations is impressive, and the strength of our team will benefit from her knowledge and experience," says Kevin Finn, Chairman of the Board and one of Iron Hill's founders. "A strong operational foundation is instrumental in our success, and with Kathryn leading the operations team, we're poised for exciting years of growth ahead."
# # #
ABOUT IRON HILL BREWERY & RESTAURANT
Founded in Newark, Delaware, in 1996 by Kevin Finn, Mark Edelson and Kevin Davies, Iron Hill is among the most enduringly successful restaurants and craft brewery concepts in the United States, with 20 locations in Delaware, New Jersey, Pennsylvania, South Carolina and Georgia, and 25 years of award-winning recognition at national and international beer competitions. Each Iron Hill Brewery and Restaurant boasts its own kitchen and brewery, allowing the creativity to pair the freshest ingredients with the highest quality grains and hops mere steps away from the table. For more information, visit www.ironhillbrewery.com.
Contact Information:
Jaclyn Daley
Director of Marketing
[email protected]
Original Source:
Iron Hill Brewery & Restaurant Announces New Chief Operating Officer